Year 6
Resources to use at home:
What we have been learning in Year 6- Autumn 1
Last half term, Year 6 embarked on their first topic, Japan. The topic began with an exciting hook day held at Kent's Hill where we took part in sushi making, origami, Japanese pictures and karate. During our topic, we looked at Japanese culture including: food, clothing and religion. We looked at the book Kensuke's kingdom by Michael Morpurgo, and even created our own Modroc island. During science we looked at how light travels and how we see light. The children investigated what happens when we look at light through filters and created periscopes to help us see around corners and over things.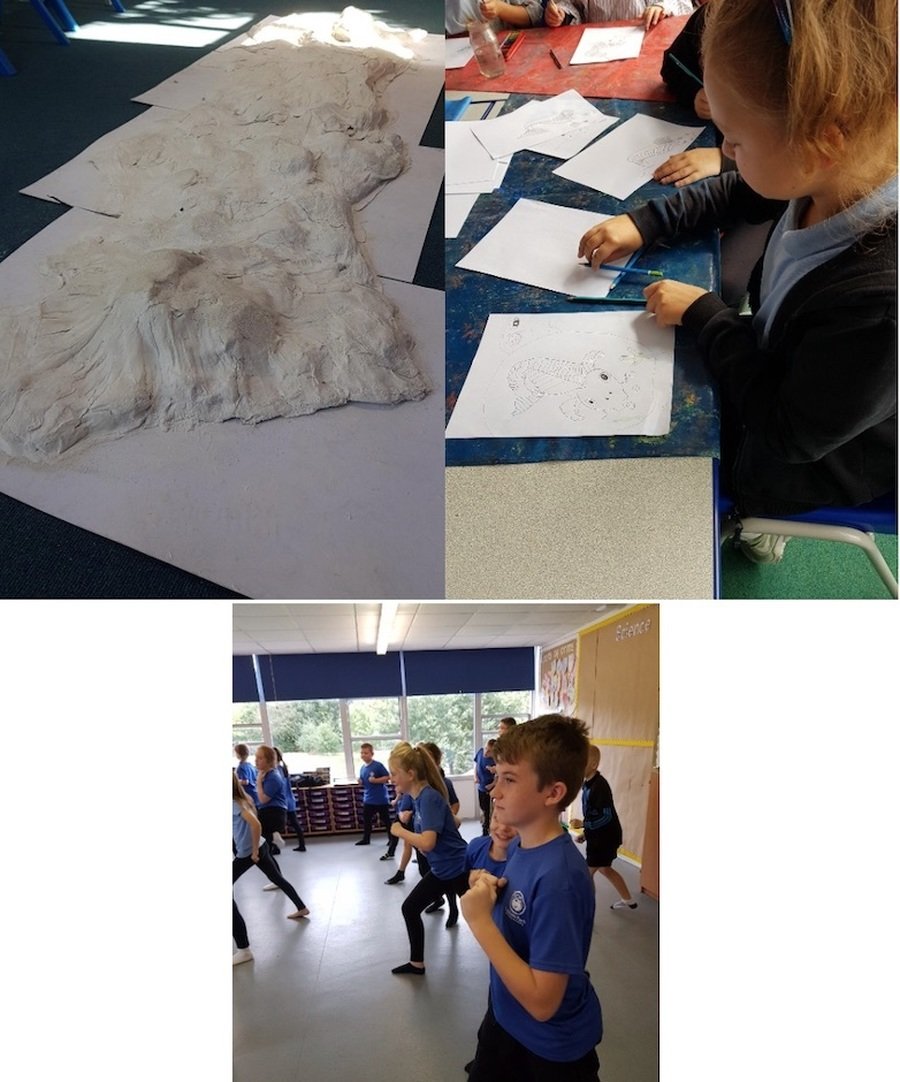 What we have been learning in Year 6- Autumn 2
This half term we have been learning about Extreme Earth. Again, we began our topic with a hook day at Kent's Hill. This time we were lucky enough to meet real life storm chasers. We learnt about Tornado alley and how to plot and track tornados. We have also learnt about how earthquakes and tsunamis happen and what causes volcanoes to erupt. We have looked at classifying animals in science including mammals, amphibians, reptiles and molluscs. We have also begun an experiment looking at what conditions cause mould to grow quickest.
In addition, we had the pleasure of welcoming musicians from the Canvey Zingt project to our school and performing alongside other schools.

What we have been learning in Year 6: Spring 2
This term our focus has been on Oscar Wilde. The children showed great maturity and developed an in depth understanding of the British Legal system around the subject of homosexuality, when looking at his life. We looked at how the laws have changed since the Victorian era and whether it was right to send him to prison. In class, we looked at the format of a court room and took part in a mock trail based around Oscar Wilde. In writing, we looked at the story of the Happy Prince and wrote a persuasive letter, asking the Swallow to stay and help to raise the hopes of the city.
In Science, we have been looking at Animals including humans. We looked at the circulatory and digestive systems and the function of the different organs within these. We took part in an experiment to show the stages of the digestive system (we even made poo!). This enabled the children to then write a detailed explanation of how the digestive system works.
What we have been learning in Year 6: Summer 1
During the first half of the Summer Term, Year 6 worked hard in order to prepare themselves for their SATs. The children took part in booster sessions and regular reading and maths lessons in order to fully prepare them for their impending SATs. When the SATs arrived, the children worked with great enthusiasm and confidence, tackling even some of the hardest of questions and were a real asset to all involved. Our topic this term was Shakespeare. We read the story of Romeo and Juliet and took part in drama based around this. In Science we looked at the topic evolution and inheritance. We identified traits people have inherited from their parents and began to identify how animals have adapted to different environments. This term we also introduced the colours of regulation into our classroom, enabling the children a visual way to share how they are feeling at different points in the day. Although only a short half term, Year 6 showed great maturity and were a credit to the school and their parents.