Nursery
What we have been learning in the Nursery- Autumn 1
During the first half of Autumn term we learnt about lots of different animals. One day, we were very excited to discover a dog in our home corner. He had a label saying 'Please look after me'. First of all, we had to give him a name and we chose George. We decided he looked hungry so we talked about the food he might like and got busy in the mud kitchen making dog treats. We counted them so he had enough to eat- but not too many! We rolled them into a ball and added some herbs and leaves to make them extra tasty. We helped the Reception class to look after their fish and enjoyed drawing, painting and printing fish. We worked together to make a giant fish tank outside using various construction equipment.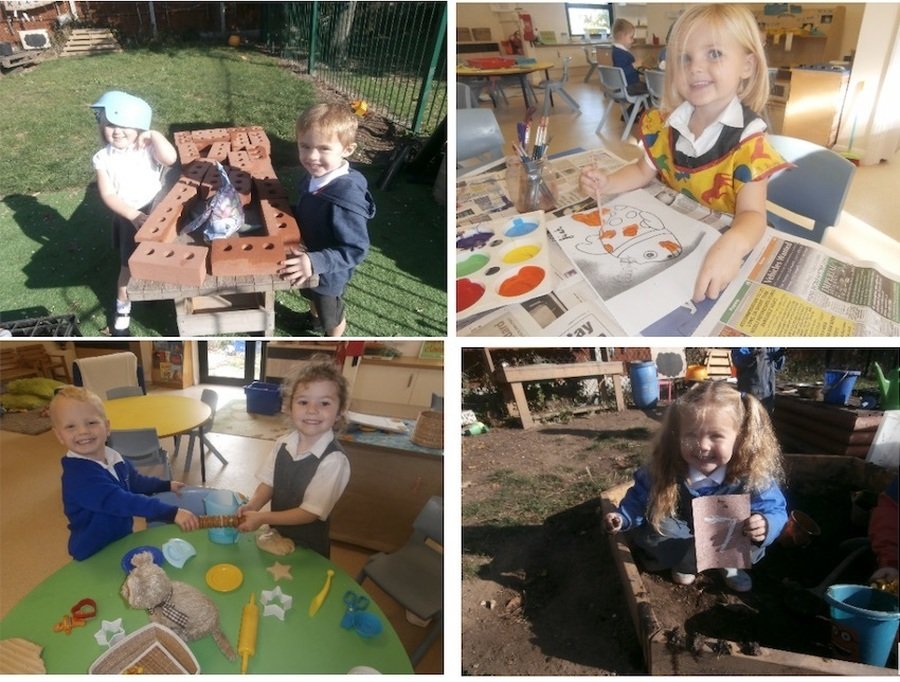 What we have been learning in the Nursey - Autumn 2
This half term we have been exploring colour. We painted circles and lines to represent fireworks in lots of different colours. We listened to some classical music and painted the way it made us feel. We learnt how to count and match numerals to circles on the rainbow and learnt about all the colours in a rainbow. We enjoyed the story 'Tiz and Ott's Big Draw'. Tiz, the cat, gave us a ladder challenge where we had to use alternate feet to step on the rungs. We had to come down the steps holding Elmer. This was quite tricky!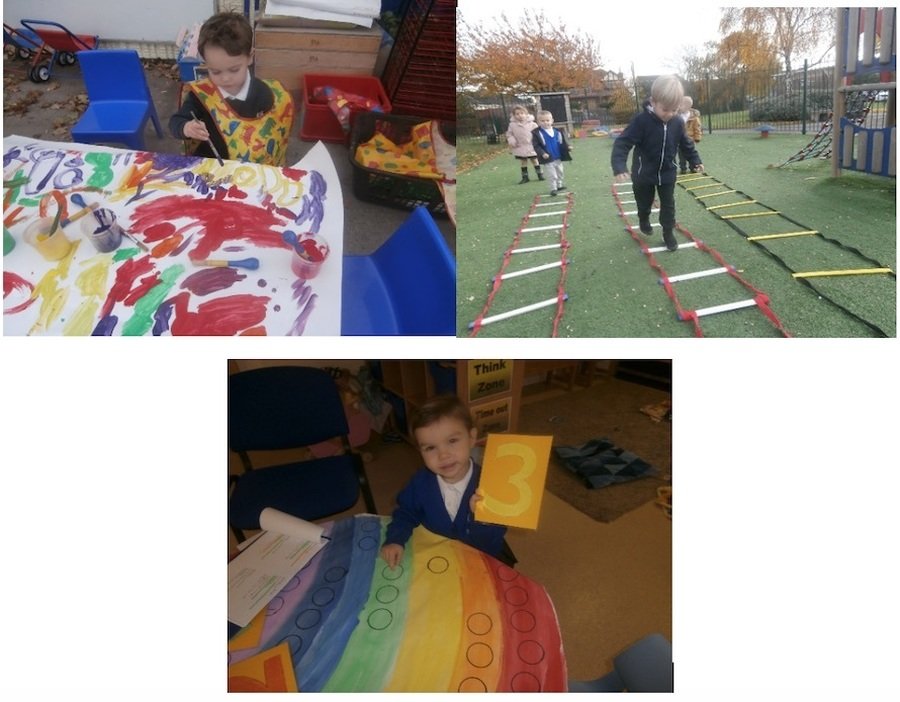 What we have been learning in the Nursery: Spring 2
We began our topic 'Nursery Rhymes' by learning 'Mary, Mary Quite Contrary.' We then designed and painted our very own flower pot. We all planted some seeds in them, took them home and enjoyed watching what happened. We wrote some instructions about how to help them grow. We enjoyed studying the author Julia Donaldson on World Book Day. We brought in our favourite books and shared them with our friends. We enjoyed dressing up as a book character. We learnt 'Oranges and Lemons' during Science week and explored the colour, shape and texture of a variety of fruit. We worked together to build some amazing bridges inspired by 'London Bridge is Falling Down using playdough and some construction materials from the garden. 'Hickory Dickory Dock' helped us to recognise our numbers and we even made some giant clocks!