Reception
What we have been learning in the Reception Class Autumn 1
We were very excited to start our new adventure at 'big school.' Feeling a little bit nervous too we soon got to know each other and made friends. When we arrived there was a huge mound covered by a black sheet in the corner of our classroom. We were really curious as to what this could be and even more surprised as every day it got smaller. We didn't have permission to touch it so we made posters to make sure no-one that visited our class touched it either. At the end of our first week we discovered a letter giving us permission to look underneath. We discovered 5 friendly fish who needed looking after and Mrs Sexton decided we were perfect for the job. Mrs Dahl, our parent helper is an expert as she works in a pet shop and she taught us how to look after the fish including how to clean the tank. This helped us make a leaflet about how to look after them and we also made a picture of the fish tank using lots of different media. We went on to look at all sorts of animals and loved making biscuits of the pet we would choose to have. We have had a great first half term at school.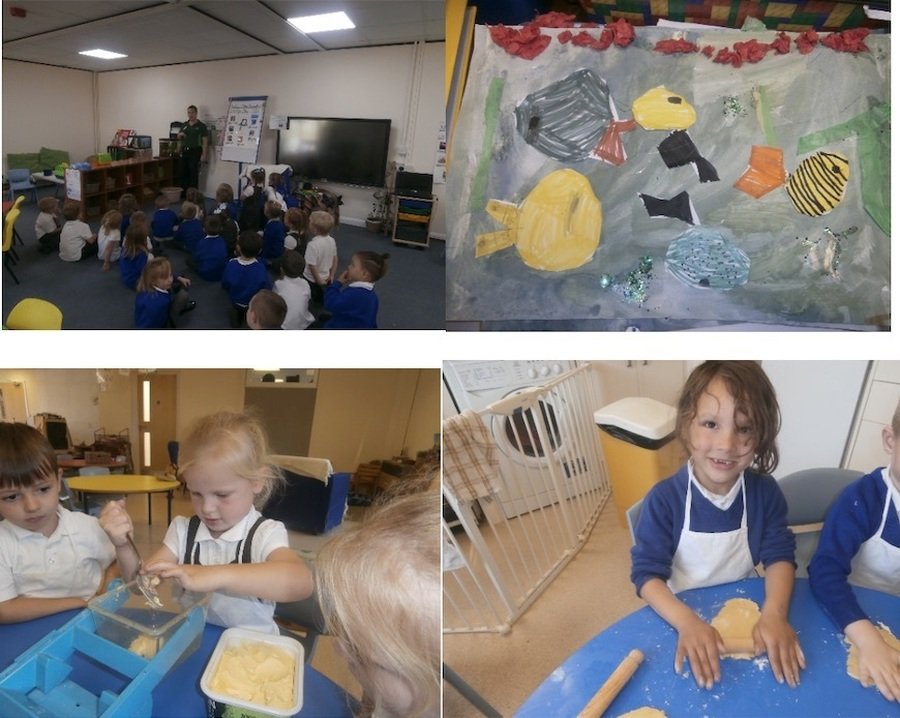 What we have been learning in the Reception Class Autumn 2
Our learning during the second half of the Autumn term is all about colour. We have looked at the different seasons and the colours that represent these. The week we looked at fireworks was exciting both in school and at home and our grownups helped us design our own firework which we then made in school. We have also learnt about colours in various environments as well as looking closely at our immediate environment. We loved exploring ice and making artificial snow! Our grownups have worked really hard helping us with our take home tasks and recording all of the lovely things we do in our 'To and Fro' books. We put all of the great work we do in our Learning Journals and feel very proud of ourselves when we look through them
What we have been learning in the Reception Class Spring 2
We began our topic 'Nursery Rhymes' by learning 'Mary, Mary Quite Contrary.' We then designed and painted our very own flower pot. We all planted some seeds in them, took them home and enjoyed watching what happened. We wrote some instructions about how to help them grow. We enjoyed studying the author Julia Donaldson on World Book Day. During Science week we made some journey sticks by making careful observations of our garden journey and then representing what we saw using different materials. We worked together to build some amazing bridges inspired by 'London Bridge is Falling Down.' We celebrated all our work by inviting our grown-ups to our special assembly.
What we have been learning in the Reception Class: Summer 1
We returned to school after the holidays to discover a huge egg in our garden. When it hatched, two baby dinosaurs appeared. Unfortunately they were poorly and had to go to hospital so we worked hard to make them a special medicine in our Potion Station to aid their recovery. We enjoyed predicting which dinosaur might come out of the ice eggs and then working out how to get the dinosaur out. Our role play involved being Palaeontologists in the Dinosaur Museum and digging for fossils in Harry's Dinosaur Den. We also made our very own fossils and enjoyed matching them with the dinosaurs. We have counted and measured dinosaurs and couldn't believe how enormous they were!