Core Value winners - Summer term 2019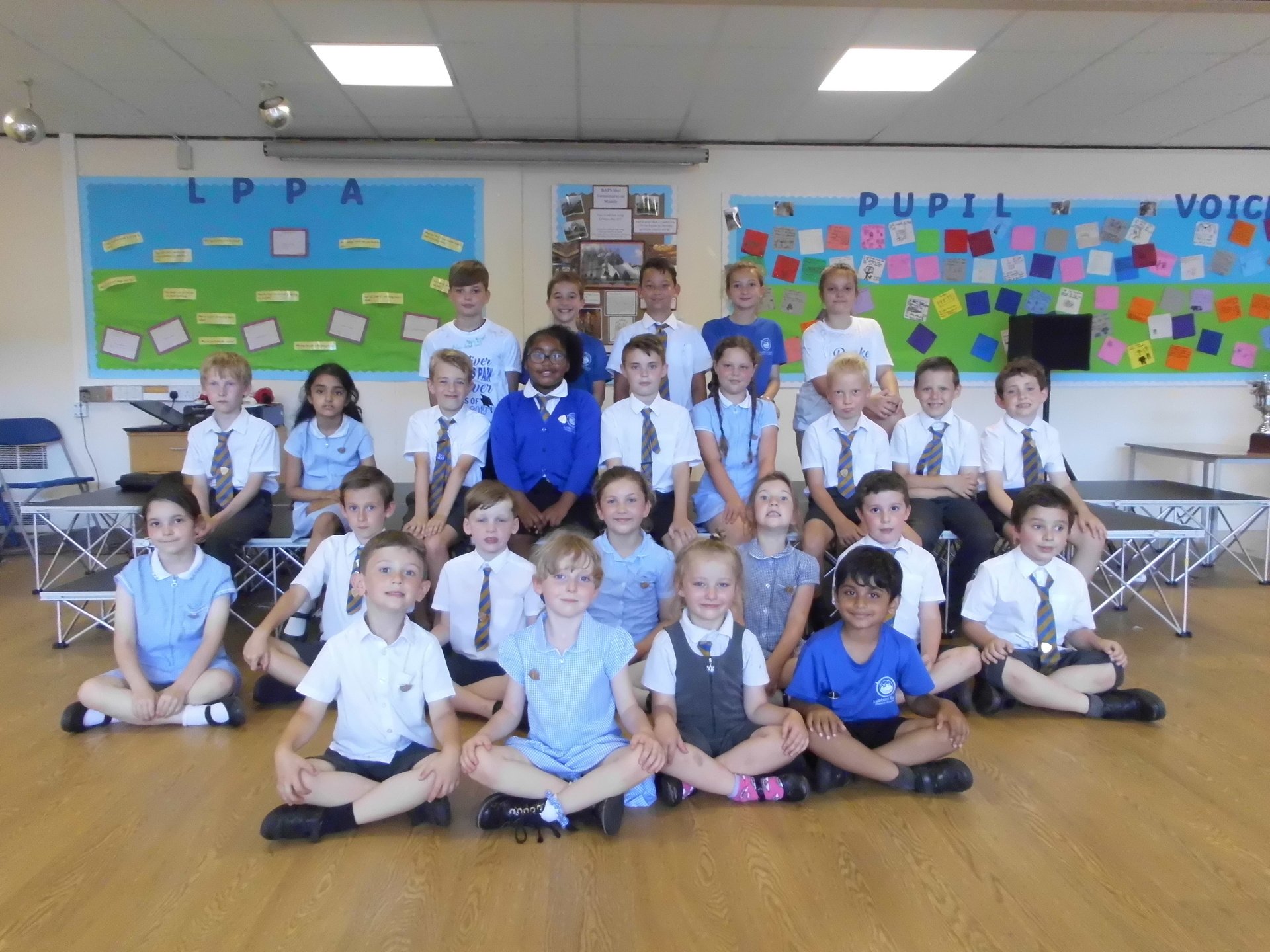 Reception
Perseverance - Hayan
Hayan found writing his name a challenge when he first started school. However he has worked really hard and with a lot of practice, determination and perseverance he is now able to write his name and his surname.
Independence - Rhegan
When Rhegan has learnt a new skill, she will go and apply her knowledge in many different contexts. She will source the equipment she needs independently and take her learning in different directions.
Teamwork - Scott
Scott is an asset to the whole class. He works as part of a team with his peers, always making good choices and follows the class rules and routines ensuring that there is harmony all around him.
Compassion - Violet
Violet shows compassion to others and is very in tune with how her friends are feeling. She has gone out of her way this year to befriend and help the quieter members of our class, ensuring they feel included and happy.
Year 1
Independence – Lewis
Throughout the school year, Lewis has worked hard to improve his focus and confidence in all areas of his learning. During the last term, he has particularly focussed on his writing and has been determined to use his fantastic imagination to create interesting and engaging pieces of work. Lewis has made a conscious effort not only to improve his handwriting but to also write sentences without the support of an adult. Lewis independently uses tools in the classroom to help him spell tricky words and the work he produces now is of a fantastic quality.
Teamwork – Jake
Whenever year 1 are taking part in group or team activities, Jake is always a friend that can be depended on to help others. Jake takes turns, listens to the views of his peers and always puts in maximum effort to ensure that the goals of the group he is in are met. He is eager to learn and supportive, making him an amazing team player and role model for others.
Compassion – Memphis-Grace
Memphis is kind, caring and considerate. Her compassionate nature means that she is always ready to help and comfort her friends. Memphis understands the importance of considering the ideas and feeling of others and will happily offer support to others.
Perseverance – Henry C
Henry is a determined and enthusiastic member of the year 1 classroom who is always ready to try his best. At times, he can find tasks tricky but he has begun to develop strategies that help him to complete his work at a high standard and speedy pace. Due to his perseverance in his learning, he has developed an exceptional bank of knowledge for all subjects we have covered in year 1.
Year 2
Independence – Jayden
Jayden never fails to impress the adults that work with him with his ability to undertake any task independently. He strives hard to achieves his targets and will not give up until he has got it – what a fantastic quality to have!
Teamwork – Bailey
Bailey is a real team player – both in the classroom, in the playground and during P.E and sports. He listens to others, takes on board their views and encourages all to participate in the team event. He has been a real star of Year 2 this year with his helpful and 'can-do' approach to learning.
Perseverance – Presley-Anne
At the beginning of the year Presley-Anne really struggled with her maths. She has worked tirelessly on improving her mental maths and written methods, undertaking additional maths homework and attending Mathletics boosters. I am pleased to say that this hard work has paid off – not only did she pass her SATs maths tests, but she also began attempting the 'challenge your thinking further' questions in her maths lessons. Hard work pays off – and Presley-Anne has really demonstrated that this year. Keep it up next year in Year 3.
Compassion – Violet
Violet is a caring, kind and thoughtful member of Year 2. If someone is upset or hurt, Violet will always try to cheer them up. She shows real compassion towards her work – she always tries her best to ensure her work is presented neatly.
Year 3
Independence - Nathan
Nathan is a model pupil in class. He is hard working consciences and always works independently. He always has an active interest in all the topics covered this year. He works well within a group or on his own. He has shown great progress in his learning.
Perseverance - Frankie W-R
Frankie has shown that he has tried exceptionally hard in all areas of the curriculum. He has made progress this year even when he finds some aspects of learning difficult. Frankie is always smiling and is willing to try and improve at all given opportunities.
Teamwork - Noah
Noah has shown that he is a valuable member of any team. Including the class and school. He shows that he can support his peers in collaborative learning and enjoys sharing ideas with a group. Noah is a confident sportsman and this is shown in PE when he frequently supports and cheers on his fellow team mates.
Compassion - Ruby H
Ruby is a real compassionate member of the class. She will always help her fellow pupils and tries to make sure that everyone has a truly wonderful time in school. I have seen Ruby grow in confidence, with her smile and cheery attitude she makes the class a happy place. Ruby always shows the class that with kindness and perseverance we can achieve so much. Well done Ruby!
Year 4
Perseverance - Seyit
For this term, he has worked hard in music as he has brought in his own guitar every week we have had a music. At first, he didn't know how to play the right notes but Ellis showed him and he had the music at home to practise. Without fail, Seyit has remembered to bring in his own guitar to school and played it in music lessons. The first time he brought his guitar in, Seyit was so keen to learn the notes, that he stayed in for part of lunchtime to learn and practise. I hope that he continues to practise and learn the guitar and that he joins music/recorder club next year.
Team work - Jayden
Jayden works well with any member of the class and has created some great group pieces of work. He is inclusive and showed sportsmanship at sports day by cheering on all the races. He communicates well and shares his ideas with his team.
Independence - Shazana
Shazana has worked hard in school and at home on her maths and spellings. She will always complete home tasks and complete them to a high standard. She made a wonderful Stone Age spear at home and will often bring in work she has completed at home. She uses the tools in class to help her with her work and has worked hard to improve her handwriting. Shazana received her pen licence a few weeks ago which was a great achievement after trying so hard.
Compassion - Diti
Diti is a thoughtful and kind member of the class. She shows compassion to others in a number of ways from offering help, being their friend or helping with their work. She is sensitive to people's needs and respectful of people and other cultures. Diti will often make things at home that are about school, learning or even to bring me in a picture for 'Celebrate a Teacher Day' – Diti knows I love a home-drawn picture!
Year 5
Independence – Ewan
Ewan has always been an independent member of the class but is now using the skills he has developed to take his learning further. He has made progress in all subjects by continuing to challenge himself to become a deep learner. Ewan shows interests in all our topics and will research and do extra home-learning.
Perseverance – Harvey
Harvey tries his best in all lessons and this has been particularly noticeable in the quality of his writing and his progress in reading. He has attended reading booster classes after school reflecting the resilience he has in order to achieve his targets. Harvey's writing has developed through continued effort in trying to include Year 5 key skills.
Teamwork – Brontie
Brontie loves to take the lead in teamwork activities but has begun to also listen to her teammates. She takes on board what other children say and ensures everyone takes part. Brontie learns from her mistakes and continues to show a rapid improvement in her teamwork skills.
Compassion – Harrison Pyne
Harrison will always make people smile with his character and his jokes. He always cheers people up and will make sure everyone is happy. Harrison is a good friend and always seeks to include others.
Year 6
Independence – Brooke
Brooke works hard in every lesson. She is an independent learner, always looking to improve her own work. She is always in the learning zone and will independently check and improve her own work. Brooke has been a fantastic role model in Year 6. Well done!
Teamwork – Alice
Alice was captain of the Canvey Girls winning football team. She showed true leadership on the football pitch, playing as a team and even scoring a hat-trick in the final game of the season. She also shows good teamwork in the class, listening to everyone when working in a group and making sure it is fair for everyone. Well done Alice!
Perseverance – Oliver
At the beginning of the year Oliver found maths in particular a challenge. Throughout the year he put in 100% effort and perseverance in class and 1-1 sessions in order the make excellent progress in this area and achieve the expected standard in his KS2 SATs. Well done Oliver!
Compassion – Lennie
Lennie is a caring, kind and thoughtful member of year 6. If someone is upset or hurt, be it another member of Year 6, or another class, Lennie can be relied upon to support and cheer them up. He thinks about others before himself and shows true compassion to all those around him. Well done Lennie!
100% Gold Attendance Winners - July 2019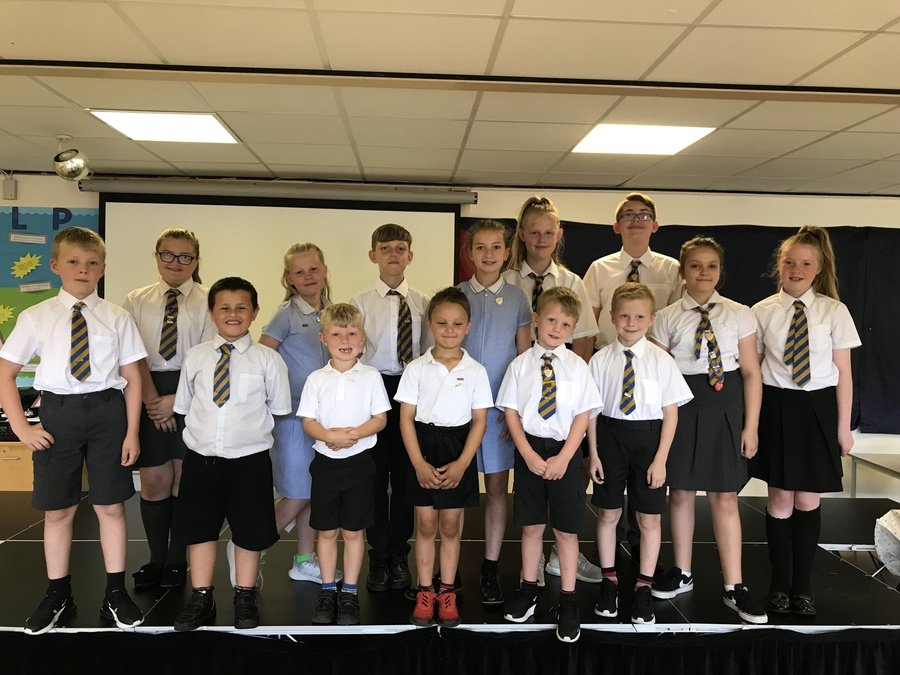 Canvey Awards - July 2019
The Canvey Awards took place on Tuesday 2nd July 2019 to celebrate our wonderful children from Lubbins Park Primary Academy. The class teachers chose one child from each class that embodied all of our core values and was a fantastic role model to others.
Reception - Logan
Logan is an enthusiastic and thoroughly engaging little boy. He works hard to exceed in all areas of the Early Years Curriculum. Logan absorbs all that is presented to him and his exceptionally positive attitude to learning along with his happy, cheerful disposition is infectious. He is an asset to his class and an excellent role model for his peers. Logan has a bright future ahead of him and the Reception Pupil Canvey Award is very well deserved. He has been an absolute delight to teach and I wish him continued success in Year 1.
Year 1 - Alfie
This year, Alfie has showcased his fantastic attitude towards learning in all areas of year 1. Alfie always tries his very best and is eager to share what he has learnt with others. Even when he finds something tricky, his perseverance and determination helps him to achieve his goals. As a result of his hard work, Alfie has become a more independent writer and mathematician whilst his reading continues to improve all of the time.
Year 2 - Evie
Evie is an extremely kind and helpful member of Year 2. She always demonstrates the core value of compassion, especially towards children who need a little extra support in our class. Evie approaches them with a smile on her face and a willingness to help. She is an excellent role model to the other children in our school and an asset to our class. Thank you Evie.
Year 3 - William
William is a model pupil in class. He is hard working, conscientious and always works independently. He shows an excellent understanding of topics and objectives covered this term and this in turn is shown through the work that he has produced. William is the first person to offer help and assistance to others and shows a real maturity in how he presents himself in class. William is a credit to the class and to the school.
Year 4 - Kaan
Kaan is an extremely helpful and motivated member of the class. From the moment he walks through the door in the morning he offers to carry out tasks that will benefit the whole class. Kaan can be relied on to try his very best and willingly buddies up with peers who might need support. He is an asset to his class and thoroughly deserves this award.
Year 5 - Lilly
Since joining the school, Lilly has grasped her learning with both hands, which has enabled her to make excellent progress. She is a polite and respectful member of the class. Lilly takes control of her learning by working independently within school and choosing to do extra home learning. She perseveres when she finds something challenging and will always help her friends if they need it. Lilly is an excellent role model and has been a pleasure to teach this year.
Year 6 - Erin
Erin has shown a real commitment and dedication to her learning this year. She has set herself high expectations and challenged herself to achieve and in some cases exceed these. She always completes her homework and often goes above and beyond. She is a kind, caring individual who offers help and support to her peers and younger members of the school community.