Week commencing 07.06.2021
What a wonderful first week of the Summer Term. At the start of the week we used clay to create Diya lamps. We designed them based on existing lamps. We had lots of fun creating our designs. In maths, we have been busy recapping our knowledge of addition and subtraction, including looking at 2 step word problems. In Science we have started our new topic of 'Electricity' and began by looking at appliances that need electricity to work and those that don't. We then sorted the appliances using a Venn Diagram to show whether they use mains electricity or batteries.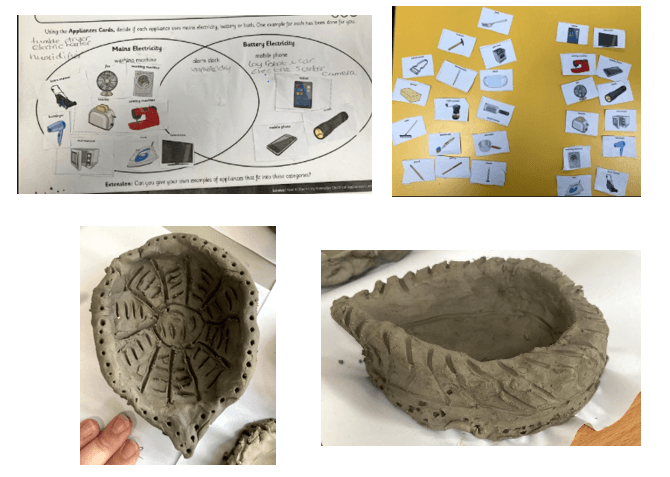 Week commencing 24.05.2021
What a wonderful final week of this half term!
This week we have worked really hard to create our double page spreads all about India and the geography we have been learning this half term. We have showcased our knowledge of its location, the transport they use, trade and Fairtrade and the climate.
We have also been writing our story set in the Indian Jungle. We have focused on using descriptive language based around the senses and fronted adverbials.
I hope you all have a lovely half term break.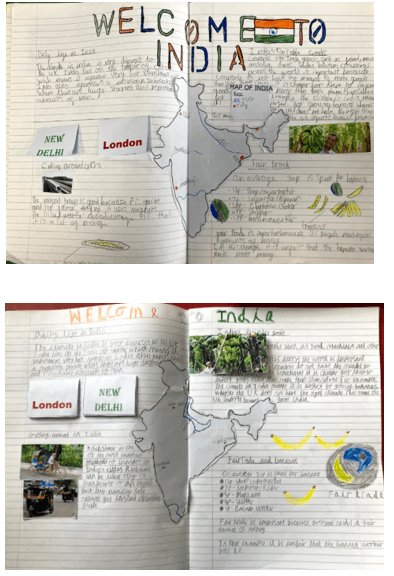 Week commencing 17.05.2021
This week we have enjoyed learning more about the digestive system. We did this in a very practical way where we used everyday objects to represent the different parts of the digestive system. We used banana and cracker to be the food, a sealable sandwich bag as the stomach, orange juice as stomach acid and water as saliva. We then passed the food through the small intestines – or tights – before we then pushed it through the large intestine. It was great fun!
We also recapped our knowledge of perimeter using Numicon. The children did this by writing on the tables and showing their calculations.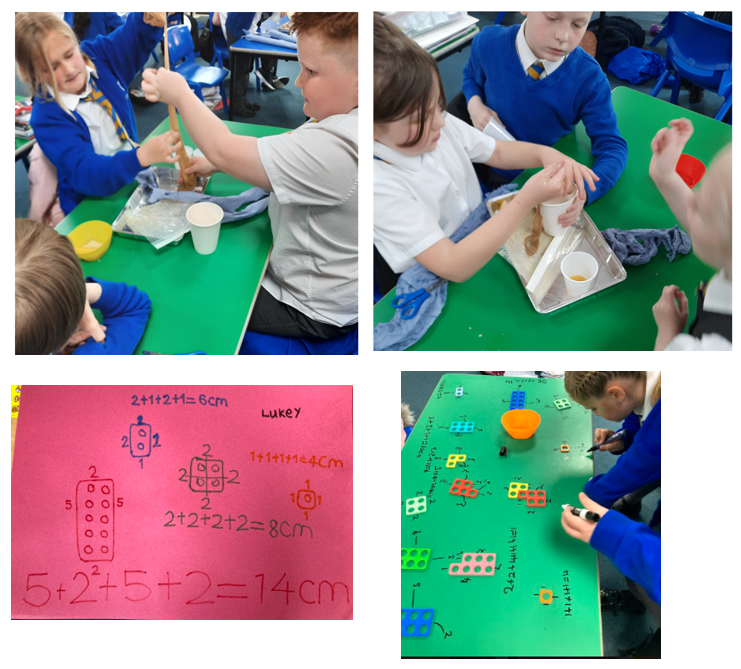 Week commencing 10.05.2021
This week we have had lots of fun designing and creating bug hotels. We thought about the different natural materials we could use and looked at some existing bug hotels to get ideas about how we could put the materials together. We then went to the field to collect materials and created our class bug hotel.
As it is Mental Health Awareness Week, we were looking at how we can connect with the natural world. As part of our PSHE lesson we went outside and created pictures using natural materials.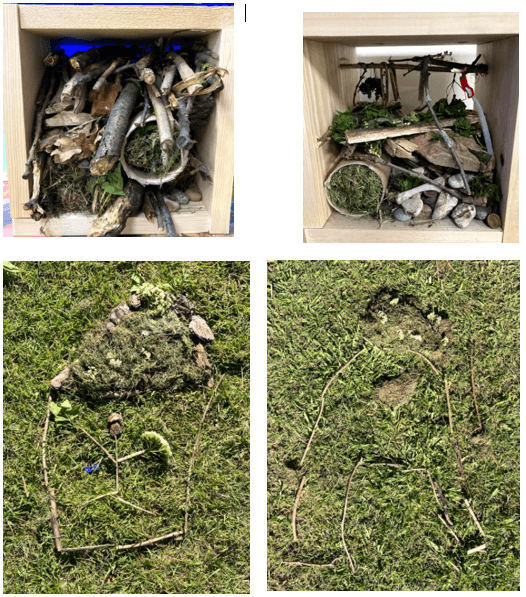 Week commencing 03.05.2021
This week we have been working hard on our diary entries written as if we were Tashi from our class text 'Cloud Tea Monkeys'. We have been focusing on including time connectives, expanded noun phrases and co-ordinating conjunctions to vary sentence structure.
In maths we have been working on symmetry and enjoyed a practical lesson where we challenged our partners to complete symmetrical patterns.